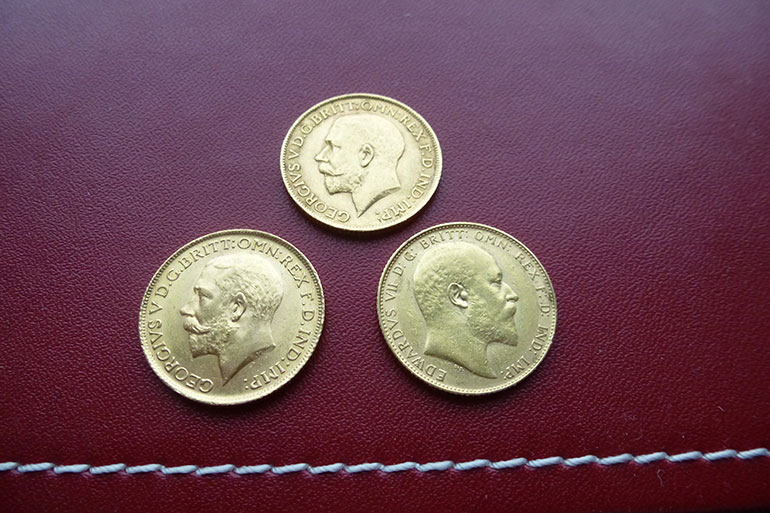 Buy Gold Sovereign Coins
To UK Gold buyers, gold sovereigns are considered the 'best buy', due to being both VAT and Capital Gains Tax FREE. This is different to Krugerrands or gold bars, which can potentially incur a tax on profits.
Our 'best value' Sovereigns (mixed years) are in Very Fine (VF) condition or better.
This is important as you can re-sell them easily, whenever you wish.
Being able to successfully re-sell your coins is often overlooked. Unfortunately, many of the Sovereigns sold on-line are damaged or underweight and the buyer struggles to re-sell them.
All our coins are guaranteed to be the correct weight.
As a leading dealer, we sell quality Sovereigns at highly competitive prices.
Our prices are transparent and include fully insured P&P.
Your coins are sent by 'next day' Royal Mail Special Delivery. The price you see, is the price you pay.
Save Money When You Buy
If you buy larger quantities from us (15 to 20+ coins), it is quite possible that you can turn around and re-sell the coins individually on eBay or at an antiques show & immediately TURN A PROFIT. AS MANY OF OUR CUSTOMERS DO.
How To Buy
Simply ring Paul on 07575 76 72 62 and tell us how many Sovereigns you wish to buy & we will put them aside for you.
We will then email you our Bank details.
To keep our prices keen and save you high card fees, we prefer payment by direct bank transfer.
You can do this via your bank or by using Internet banking.
You must then initiate a Bank Transfer by the end of the next working day or your order may be cancelled.
As soon as we have received your cleared funds we will dispatch your order via Royal Mail Special Delivery.
Bank Transfers typically take 2 hours and you will receive your coins the following working day.
Alternatively, we do accept payment via cheque, though this takes longer to allow the funds to clear.
To Order
Email paul@buybullioncoins.com or ring Paul on 07575 76 72 62 .